Dhriti's Favourites – second birthday cake
I want to make a special cake for my daughter's second Birthday. She loves animals, train, sun, rainbow , trees and so many in her little world. Then came the idea of having a train with animals telling her birthday wishes, going through hills, jungle, and farm on the side.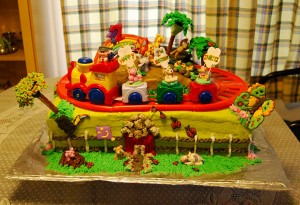 I made all the elements in advance. It took a whole night for me to assemble the cake with the help of Raji and Surya. It's amazing to hear kid's imagination and their ideas. He infact designed the placement of all animals, and telling me how the grass should look and so on. Forexample, he said put one elephant drinking the water and other holding a kite, Giraffe should look at tree and planning to eat those leaves, ladybug watching the cow eating grass and so on. I loved all his ideas. Good job Surya.
Here is the picture gallery of the cake.

Now, the cake in action

Got anything to say? Go ahead and leave a comment!
Subscribe to VanisWorks via Email