Welcome to Ravi's
Most people ask me how I proceed with a painting. Well, the best way to answer is through pictures. Before i start a painting , i research,sketch and have a clear idea of painting's outcome.
The first one for Ravi's is with the theme, "Welcome to Ravi's Indian Cuisine".
What they want?
They want a beautiful Indian girl representing Indian tradition.
My idea:
The first thing that came into my mind while thinking of "Best Indian tradition" that everyone knows is ….."NAMASTHE"
So the beautiful girl in my thoughts is none other than "BAPU BOMMA". I think no one can ever paint a Telugu girl like Bapu and I always want to reproduce them.
The result is the beautiful girl from "Bapu's Subhodayam"
Then comes the tradition," Mango leaves and bells at the entrance Gopuram" and "Muggu or Rangoli"
I added my new ceramic work along with special coloring technique and finally my dream picture came into life.
Here is the slideshow of step by step process:

Final outcome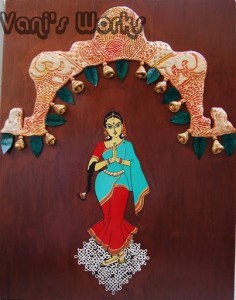 Closeup of Gopuram,Bells and Mango Leaves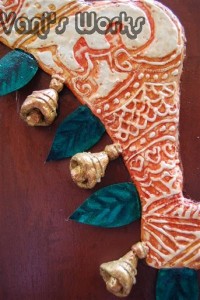 Closeup of the Girl

Closeup of Rangoli(Muggu in Telugu)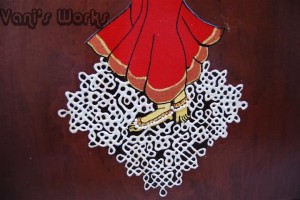 Medium:
Ceramic powder , plaster of paris and paper powder for all the 3D work
Acrylic colors for the girl
Water colors for the vitage effect of the gopuram
Real pearls for the Jewellery
Got anything to say? Go ahead and leave a comment!
Subscribe to VanisWorks via Email